In 2018, Walmart launched a "3D virtual shopping tour", which allowed customers to browse items in a 3D virtual space. However, the lack of information about this since then suggests it was not that successful. Was Walmart a little ahead of its time?
More recently, French luxury perfumes and cosmetics house Lancôme also launched a virtual store. Lancôme's immersive retail experience will last three weeks, from 28 August to 20 September 2020, exclusive to Singapore consumers. Before the launch, it had garnered lots of international press coverage, and the brand has plans to expand the initiative beyond Singapore if the test-run here proves to be successful.
THE LANCÔME VIRTUAL FLAGSHIP STORE EXPERIENCE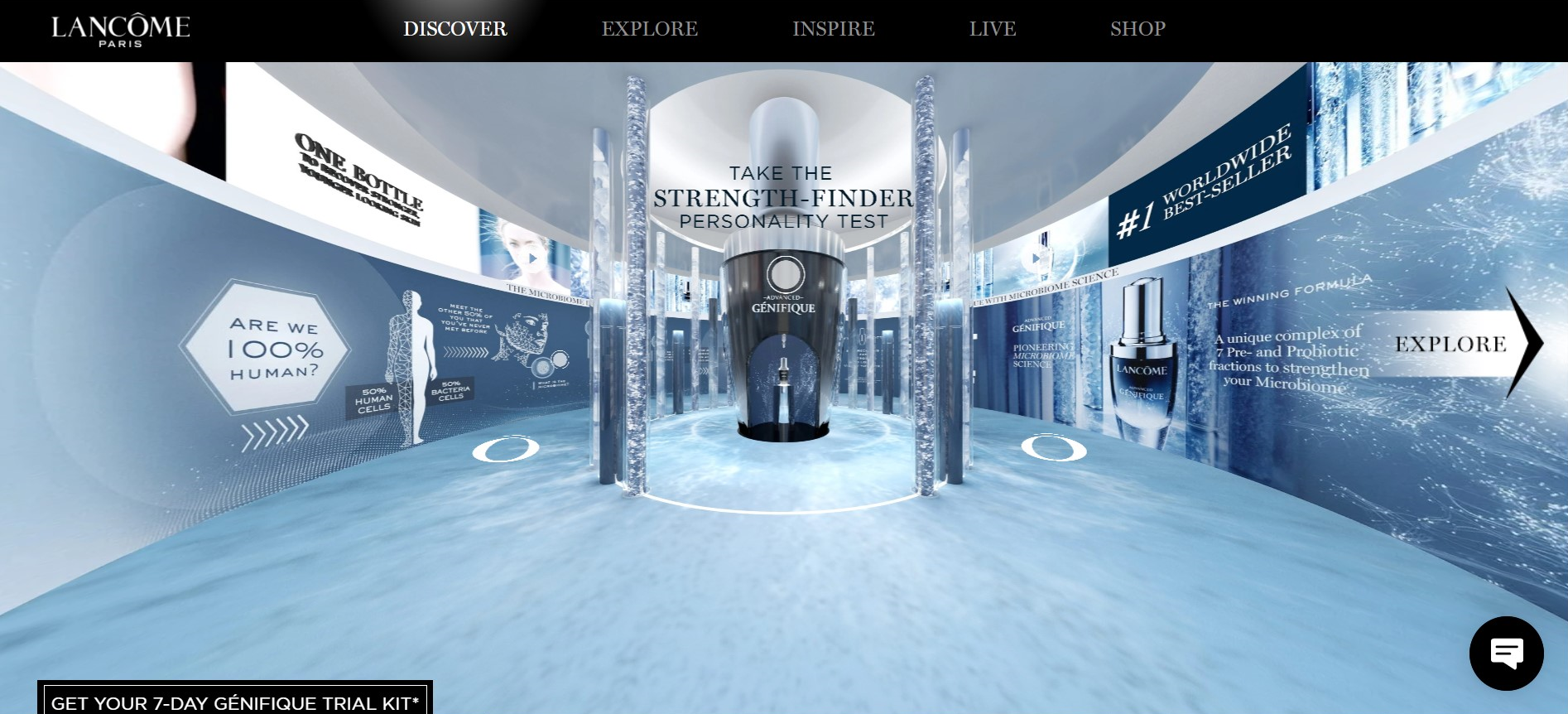 I was quite curious about the concept of a virtual store, so naturally I had to check it out. I also went in knowing nothing about Lancôme or its products; it was a completely new experience for me. My "journey" began with a Lancôme Génifique bottle – the product the virtual store revolved around – front and centre on my screen, while Avengers-esque music was playing in the background. I was psyched.
After that, I was shown a video (which I couldn't skip!) and some instructions about navigating the virtual store, before arriving in the Discover zone, as shown in the above screenshot. In total, there were five zones: Discover, Explore, Inspire, Live and Shop.
According to Chua Sher Le, Lancôme Brand General Manager in Singapore, the virtual store was "specially decided to provide an immersive and memorable experience" and was not just an online store. In fact, I couldn't actually buy anything from the store itself. While there was a Shop zone, where I could move around and look at the various products displayed on counters as if I was in a physical store, clicking on a product led me to other websites (such as Tangs and Takashimaya) where I could buy it.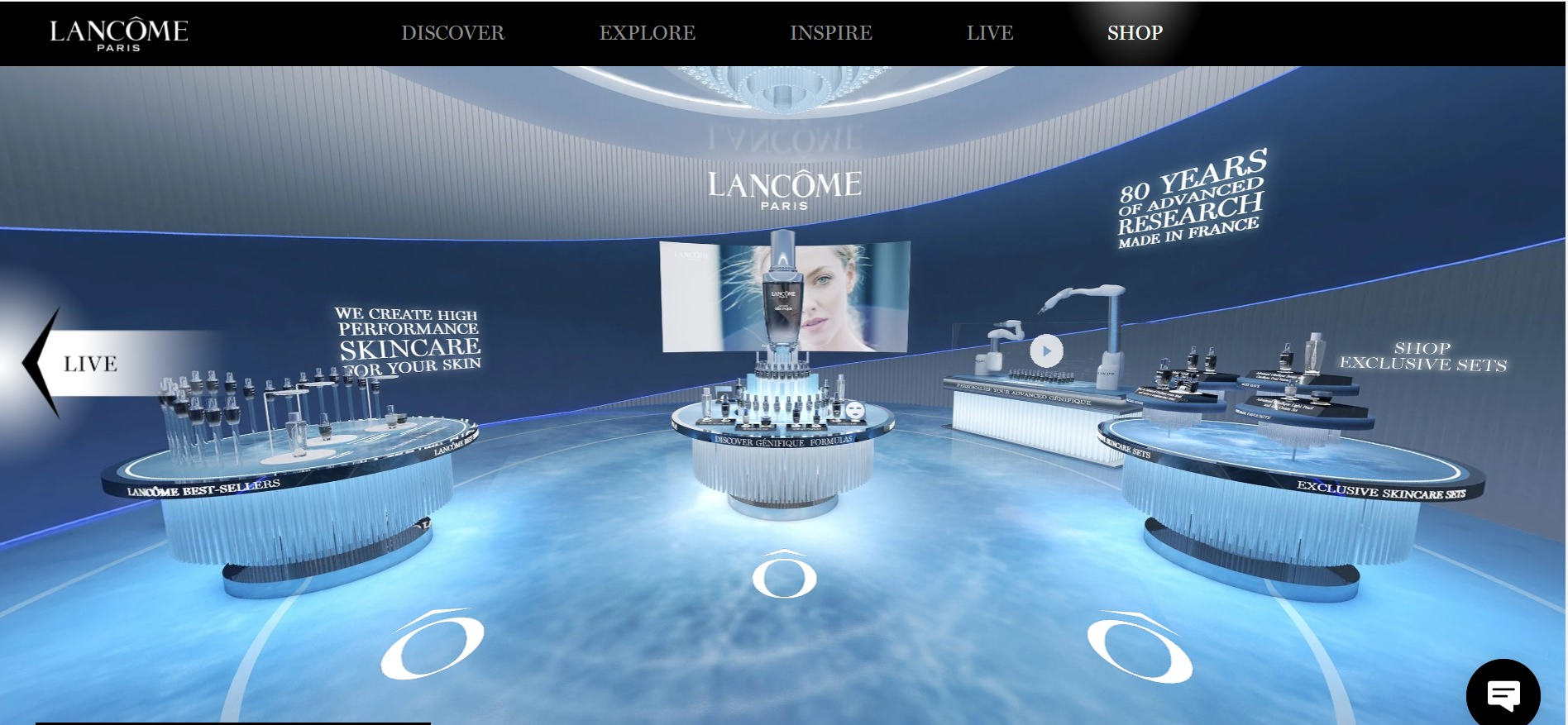 This was quite different from what I had envisioned, as I had thought that I could buy products directly from the online store. I admit: this took a little away from the experience. But I suppose this feature could be ironed out later. The other thing I noticed was how quiet everything seemed. Shouldn't an immersive experience engage the other senses as well?
Regardless, I did enjoy navigating the store, using arrow keys to move across the "rooms". The quality of the graphics was impressive. I also had fun with the "strength finder" personality test in the Discover zone. As it turned out, my strength is "intrinsic wisdom". For a moment, I felt a personal connection to the brand. After getting my result, I was prompted to the Inspire zone, which featured 100 women grouped into the six different strengths as defined by the test, with each personality sharing how her strength helped her thrive in her life and pursuits. I found this fitting quite well within Lancôme's wider #LiveYourStrength campaign, further demonstrating how a virtual brand experience is indeed more than just the products. The personality test also made the entire experience more personal to me.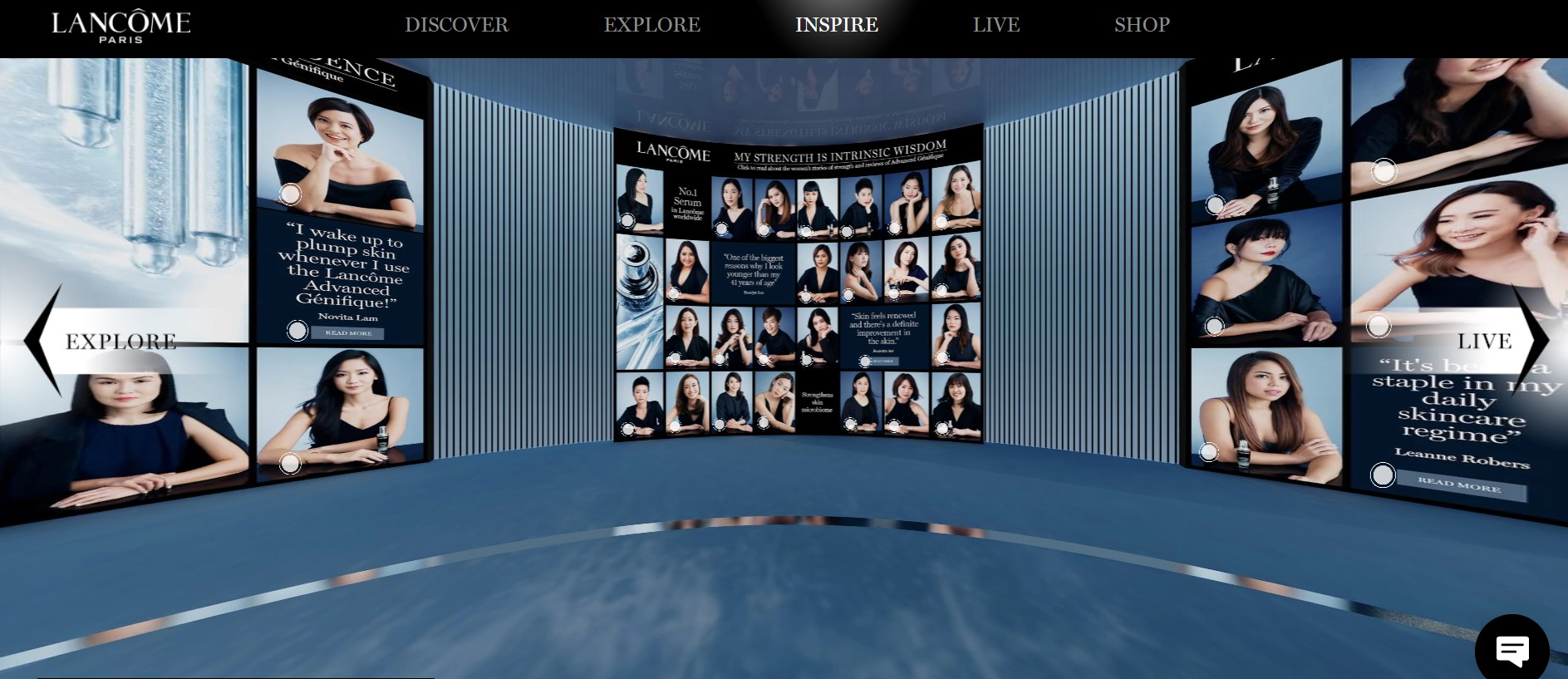 Overall, while I felt that there were things that could have been done better, I enjoyed the experience, and even ended up signing up for a complimentary product trial kit. As someone who dislikes crowds and would probably never have gone to a physical exhibition like the one Lancôme did last year, the virtual store was successful in my book. Does the same apply for you?
THINKING LONG TERM
Since the COVID-19 pandemic began, brands and businesses worldwide have been impacted greatly. Many have closed – some temporarily, some permanently. Others have had to adapt quickly to a rapidly changing environment. And for years to come, businesses will still be reeling from the economic fallout of COVID-19.
More now than ever, it is time for virtual stores and virtual experiences to shine. Retailers and those that primarily operated from brick-and-mortar stores need to think about how they can best utilise the virtual space to deepen their connections with their customers. Of course, this doesn't mean that you have to neglect your physical space completely. Creating an effective virtual or hybrid experience – one that is immersive, memorable and meaningful for your customers – is increasingly something brands and companies should consider in the wake of COVID-19.