Apple's latest store at Marina Bay Sands opened on 10 September 2020 to much fanfare. It didn't take long for me to make my way there to see what the hype was all about.
To control crowd numbers and abide by the current safety distancing regulations, all visitors, including walk-ins like me, were required to book a timeslot.
But as I would soon discover, the hour-and-a-half wait was well worth it.
CUSTOMER EXPERIENCE REDEFINED
I am greeted by an Apple Specialist, who has been tasked to take me around the store and answer my queries. Perhaps sensing that I am more interested in the store itself – and probably because they get tons of visitors who just want to look around this soon-to-be icon – she gives me time to take photographs of the brightly lit store while extolling the benefits of Apple Care Plus and how it can help fix my ailing MacBook Pro.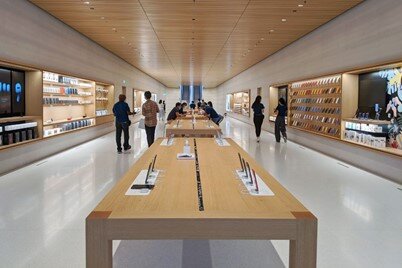 My Specialist even offers to help me take pictures as we ascend on an escalator surrounded by mirror-polished stainless steel – an first among Apple Stores around the world. A ride up here takes us to the forum, the floating glass dome that has everyone obsessed.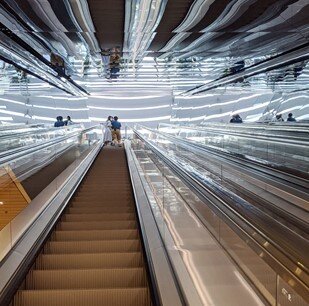 The forum is bright, with copious natural light shining through the panels that line the glass dome. My Specialist takes me around, sharing with me anecdotes about her personal life and listening keenly as I ask her some questions about Apple products.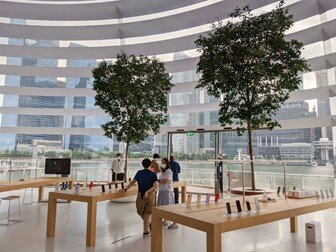 At no point does she attempt to persuade me to make any purchase. In fact, she is happy to just share with me some trivia about this store and its design, while letting me know where the best #instagram shot can be taken. I notice that many visitors aren't even looking at the products. They're mostly on their phones taking photos.
At the end of the short 20-minute visit, I leave with many pictures of the store – though none with me in it – and a greater appreciation for Apple's retail experience, one that has made me feel included even as a non-paying consumer.
WHAT EXACTLY IS THE APPLE RETAIL EXPERIENCE?
Many have studied Apple's retail experience and attempted to find out the magic formula for the kind of retail that has made Apple so successful. This perhaps boils down to Apple's slogan, "Think Different".
Blogger Steve Chazin, a former Apple employee who was asked by Steve Jobs to aid in rebuilding Apple's product and marketing efforts, wrote a book on Apple's retail strategy titled The Secrets of Apple's Retail Success. In it, he outlines five reasons for Apple's retail success.
Apple had to 'Think Different' about their retail strategy. From its Genius Bars to product arrangement, Apple executed retail differently, prioritising experience over selling.
Apple isn't selling products; it's inviting its audience to experience a lifestyle. Even its employees, known as Geniuses and Specialists, feel like they're part of an intimate family.
Apple empowers its customers to make their own decisions and trains its employees to promote an inclusive and welcoming environment for this to happen.
Apple Stores enrich lives with bright open spaces that encourage customers to enter and play and collaborate with like-minded people.
Apple goes the extra mile by embodying the belief in customer delight and doing more than is necessary to achieve this.
WHAT CAN WE LEARN FROM THIS?
Many retailers have adopted the Apple Store as their template now, but they fall short of truly embracing customer experience over selling like Apple has. Simply replicating the open and neat aesthetics of an Apple Store isn't enough.
It is increasingly imperative for brands to prioritise experience in retail – whether virtual or physical. A recent report by Accenture has noted that millennials and Gen Zs want to be wooed by experiences. Getting closer to them through gleaning their insights and building communities can likewise increase their loyalty. But as most millennials and Gen Zs have not built their customer loyalties yet, brands will have to work extra hard to gain their trust.
In this day and age, centring your brand around meaningful customer experiences need not come at a high price. This can be done by adopting simple strategies. For instance, American Eagle Outfitters made a conscious decision in 2014 to ban any retouching of photos for its lifestyle and underwear brand, Aerie. Its customers applauded this decision, and the brand saw an uptick in sales. Why? Because they responded to their customers' desire for a more transparent and authentic brand.
Neatly summarised in the 2019 Microsoft Retail Trends report, customer experience is everything.
Selling is important to keep profit margins healthy, but this should not come at the expense of customer experience.
Instead of just making them buy, make your customers stay: create an experience ecosystem that puts your customers first, guiding them to experience your brand as a lifestyle and building a loyal community that will stick with you through thick and thin.
People are always searching for meaning and belonging. If you give them these – as Apple has – you'll find that they're willing to go the extra mile for you.
Apple Marina Bay Sands
2 Bayfront Avenue
B2-06
Singapore 018972
1800 407 4949
Opening Hours
Monday to Sunday: 11am–10pm
(While walk-ins are allowed, do try reserving a timeslot in advance here to avoid any disappointment)