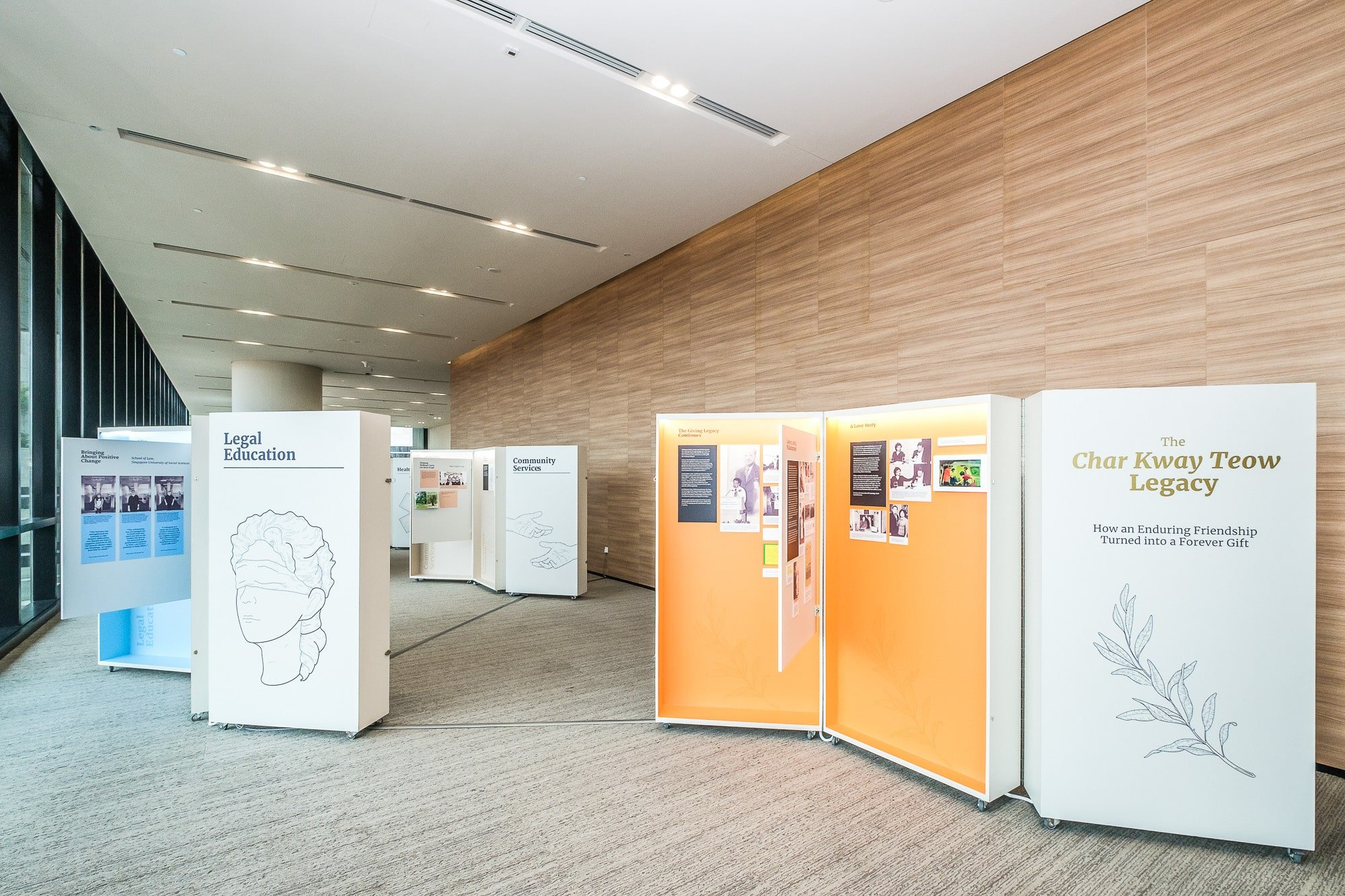 Two years ago, we launched The Char Kway Teow Legacy book and exhibition for our client, Give Dangerously Foundation. The travelling exhibition was scheduled to be presented at 18 locations until June 2020.
The COVID-19 pandemic put an abrupt end to this plan.
However, the importance of giving was especially clear during these trying times, as so many people were facing job and financial insecurity. Mr HH Tan, founder of the foundation, was thus determined to continue spreading the message of giving.
How should we go about this amidst the pandemic, the end of which is anyone's guess?
We decided that the best way to proceed was to go virtual. Our target audience of young people aged 18 to 35 are digital natives, after all. Staying and working from home has become the new norm during this pandemic, so we now have an even greater opportunity to capture our target audience's attention online.
We proposed the idea of an elevated virtual experience to our client, who was excited for the pivot to digital. We conceptualised a virtual experience, a virtual launch event and even fun digital collaterals like sticker packs to cast our net wider to reach out a larger number of young people.
THE CHAR KWAY TEOW LEGACY VIRTUAL EXPERIENCE
For the foundation's virtual experience, we first set up the physical exhibition at the Lee Kong Chian School of Medicine, one of the exhibition's scheduled venues, for a 3D virtual shoot.
But unlike for most 3D virtual tours, we did not just stop at taking 3D footage. To elevate this from a tour to an experience, we conceptualised a classy UIUX to align with the existing aesthetics of the book and physical exhibition while including many elements that would appeal to the youthful audience. These elements include plenty of augmented reality (AR) features conceptualised and developed by our in-house team.
Audience engagement is no one-way street. Users begin their experience by "chatting" with Mr Tan, the foundation's founder and philanthropist, through a video call experience.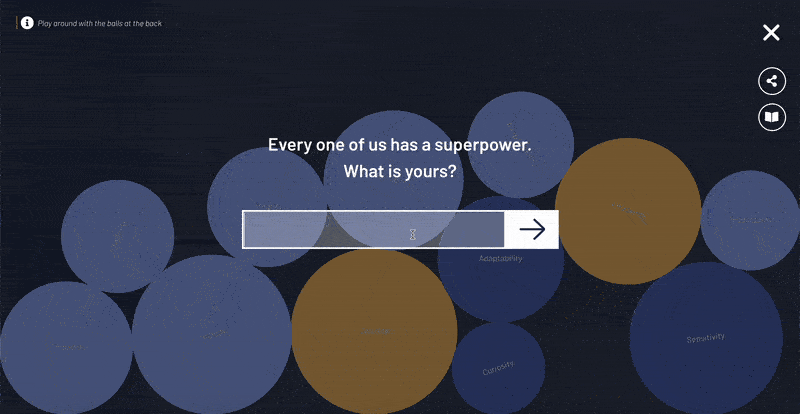 Then, to involve users in the narrative and welcome them into the giving community, we ask them to share what their "superpower" is. They'll then be able to see the quality they have chosen appear as a ball, which they can play around with on the screen.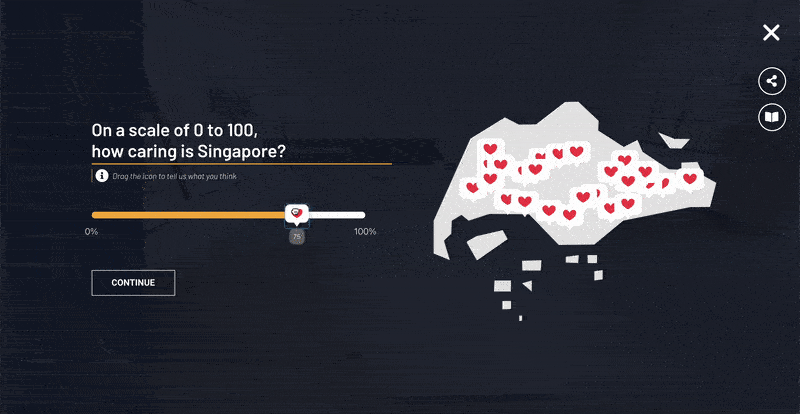 We also invite users to rate how caring Singapore is to them. As they slide the toggle along the scale, the number of hearts on the map changes correspondingly. This helps users to see that their contributions have an impact in real time, further bringing them into this giving narrative and community.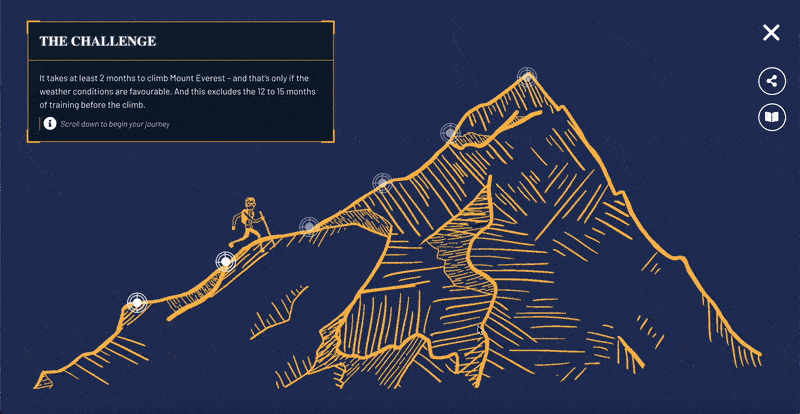 The foundation has helped many beneficiaries, some of whom have their journeys featured in the virtual experience. One of these individuals is Nur Yusrina Ya'akob, a Physical Education teacher who became the first Singaporean Malay-Muslim woman to summit Mount Everest. Users can scroll along to complete her Mount Everest journey while finding out more about her triumphs and challenges.
Why this interactive storytelling format? Our research showed us that this form of interactive storytelling is very popular and highly effective. Users can feel directly engaged in Yusrina's journey through their scrolls and clicks, which allow her story to progress in real time, making her narrative more accessible.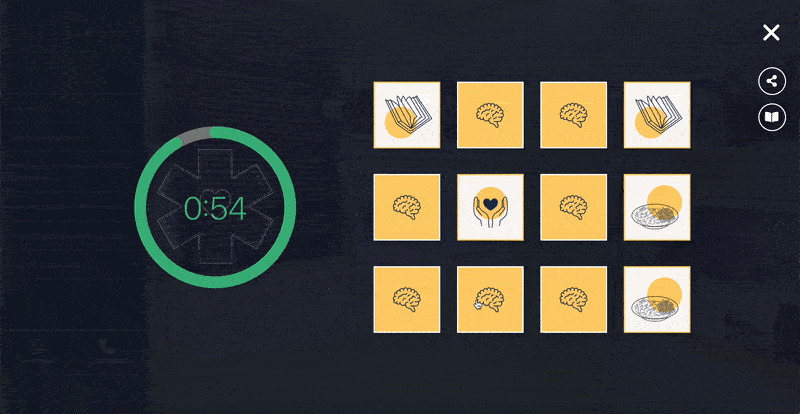 Remember the flip card game you used to play as a kid? We've made use of it in the virtual experience. While such gamification appears simple, games like this enhance learning experiences and make them more interactive. This translates to greater memorability and impact on each user, which is a bonus for our client.
Now, with the virtual experience ready for viewing, it was time to launch it.
VIRTUAL LAUNCH OF THE CHAR KWAY TEOW LEGACY'S VIRTUAL EXPERIENCE
With the endless Covid-19 restrictions on event attendance, we conceptualised a virtual launch, complete with a social media campaign that would best appeal to our young audience. This took place in various stages.
First, we started Give Dangerously's social media journey on Facebook and Instagram, platforms that our target audience use the most, and started to spread the word of giving through cute and concise slides. This format of digital storytelling has been gaining traction on Instagram.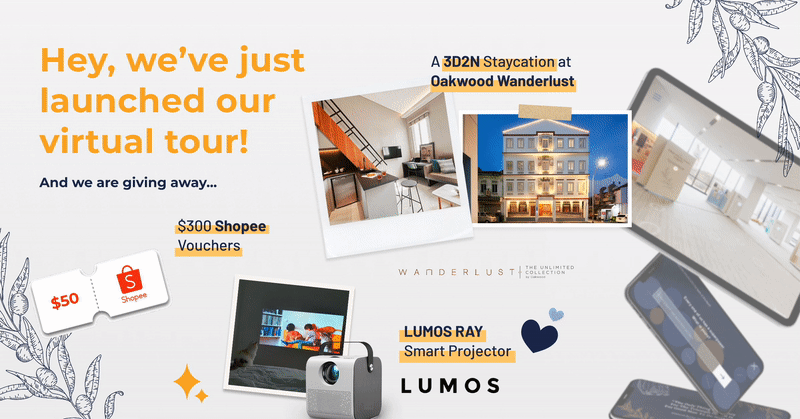 Creating social media platforms alone was not enough. To improve our engagement numbers and reel our audience into the virtual experience, we held a giveaway with attractive prizes. Hopeful participants explored the virtual experience and told us what the most meaningful part to them was. In less than a month, we received at least 130 entries! The campaign and giveaway also contributed to a whopping 118% increase in Give Dangerously's Instagram account.
To spread the foundation's message of giving and grow its giving community, Mr HH Tan also gave all giveaway participants a complimentary copy of The Char Kway Teow Legacy book.
We did not stop there. Apart from Facebook and Instagram, our audience also make use of messaging apps such as Telegram and WhatsApp on a daily basis. This was an opportunity we could not miss. Stickers have long been great marketing tools both in the physical and digital realms due to their emotive power.
Thanks to their creative graphic design and relatable expressions, our stickers have been used on Telegram at least 800 times as of the time of writing! By attracting new audiences with this sticker pack and having them spread the word organically, we were effectively turning them into the foundation's advocates.
While we were initially disrupted by the pandemic, we came out stronger by pivoting to a virtual experience and launch. Give Dangerously Foundation's message of giving could ultimately shine through and help our audience find some joy in these uncertain times.
Our efforts and determination in launching the experience paid off in more ways than one. With the foundation's blessings, we entered The Char Kway Teow Legacy Virtual Experience into the MARKies Awards 2021 organised by Marketing-Interactive. The virtual experience emerged as Finalist in the Most Creative Campaign Pivot and Most Creative Customer Engagement categories! With this recognition, we remain committed to pushing the boundaries of exceptional experiences that will help brands turn their audiences into fans.
Embark on The Char Kway Teow Legacy virtual experience now!
Download The Char Kway Teow Legacy Telegram stickers, WhatsApp stickers, and animated WhatsApp stickers to make your text messages more exciting!