"The Information Age is dead. Long live the Experience Age."
Not too long ago, or the 1970s to be exact, the world entered what many termed as the Information Age. This age was characterised by how simple it became for people to access information and knowledge. However, as time went by, people wanted something more – and different. Enter the Experience Age, where the focus is on creating experiences. Instead of just seeking information, people, or by extension consumers, are looking for experiences and connections that satisfy their innermost needs and desires. Consumers now value experiences that go beyond superficial Instagram-worthy backdrops. They want to be wowed by spaces where they can learn, share content and connect with like-minded individuals.
You may have heard that retail is dying. The reality? It's more like a fast-moving circle of brand life.
Brands that have quickly responded to consumers, by giving them reasons to step into their physical stores, are thriving. These brands are able to get consumers to forgo the convenience of online shopping and the comfort of their own homes.
How do they do it?
By creating interactive, social spaces, where their brand stories are told through experiential design. The lure of these supercharged experiences drives footfall and brand recall and, ultimately, increases sales. The clever use of data gathering and analytics in these spaces also allows them to plug into the minds of consumers to better understand them. The result? Enhanced brand engagement and higher repurchase rates.
Here are some of the brands (we think) are doing it right.
AR GOODNESS – STARBUCKS RESERVE ROASTERY, SHANGHAI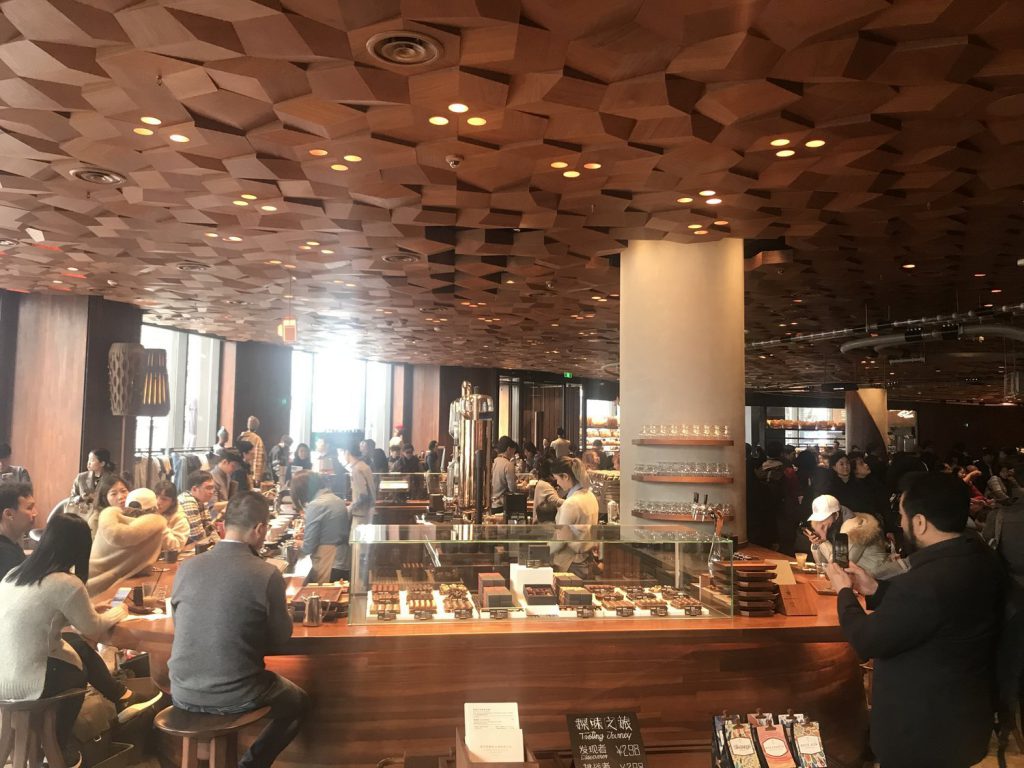 This spectacular Starbucks establishment is the biggest Starbucks in the world, measuring a huge 30,000 square feet. The Roastery roasts all of its beans in-house and has a unique Teavana tea bar and augmented reality technology created by Alibaba.
Since it opened its doors in December of 2017, the roastery has been typically filled to the brim with customers. During peak hours, a snaking queue even extends out of the door. Its revenue is also off the charts, with an average of USD$64,000 in sales a day.
FOOD FORWARD – GUCCI GARDEN, FRANCE
Gucci has created a brilliant retail experience that combines the best of food, lifestyle, fashion, history and art. The space has two defining components.The first, restaurant Gucci Osteria da Massimo Bottura, run by the chef of the same name who has received three Michelin stars – and the Gucci Galleria, an exhibition space curated by renowned fashion critic Maria Luisa Frisa.
The brand is going beyond just feeding customers, they are cementing their future as a lifestyle brand that calls out to consumers through the provision of an experience. By building this experiential space, Gucci has blazed a trail for luxury retail with the opening of the Gucci Garden. The store's opening played a significant role in increasing sales of their e-commerce store by more than 50% that quarter.
DRIVE THE FUTURE – PORSCHE EXPERIENCE CENTRE, SHANGHAI
Simply put, this is the place you'll want to go to live your wildest Porsche fantasies. The first of its kind in Asia, the centre is the place to fully experience the brand. The centre even has its very own race track in house, with a kick plate, water slicks and even low-friction paint to simulate the slippery conditions of driving during winter. Other facilities such as a cafe, restaurant, arcade-style driving simulators and a Porsche merchandise shop complete the experience.
Since it's opening in April 2018, the centre has positively affected sales in China, with over 10 percent year on year growth in the first half of 2019.
CUSTOMISABLE DELIGHT – MAGNUM PLEASURE STORE, LONDON
With a sensuous name like that, the Magnum Pleasure Store promises to offer a sensory delight for every visit. The store serves up a myriad of experiences where customers can fully customise their ice creams with exotic ingredients like cornflower petals and black lava sea salt. The store is immersive as well, with photo booths, selfie spots and in-store prizes that inspire sharing on social media. A VIP room lets customers sit at the "chef's table" to experience and understand the process of creating a Magnum.
This has proven to be quite successful for Magnum. Despite the premium added on an already premium product, people are still buying customisable Magnums in stores all around the world.
BUILDING A CULT IMAGE FOR YOUR BRAND
The success of different brands like Gucci, Starbucks Magnum and Porsche shows that building experiential spaces and exhibitions is the way forward to survive the cutthroat world of retail.
Build a cult image for your brand. Build experiential spaces and exhibitions that will provide you with the all-too-rare opportunities to share your brand philosophy and expertise in in-depth ways, with the audiences who have come to spend time listening to you.
At HOL, we have the experience and expertise to curate these spaces. When you're planning yours, be sure to keep us in mind!